Come along with us and experience Bali, a paradise in every sense of the word. We'll combine daily workouts and motivating chats with amazing sightseeing, stunning beaches and incredible excursions. Enjoy delicious food, spectacular shopping and the unique opportunity to experience it all with our like-minded community.
Full Package Price: $3,543.00 | Air from Los Angeles Land Only Price: $2,714.00 | Land only rate does not include airport / hotel transfers (per person, based on double occupancy)

To make your reservation call us at 815-663-4046 or Toll-Free at: 877-887-1188 (USA or Canada) 02393-880068 (UK) 18-0010-6424 (Australia) or submit your reservation online.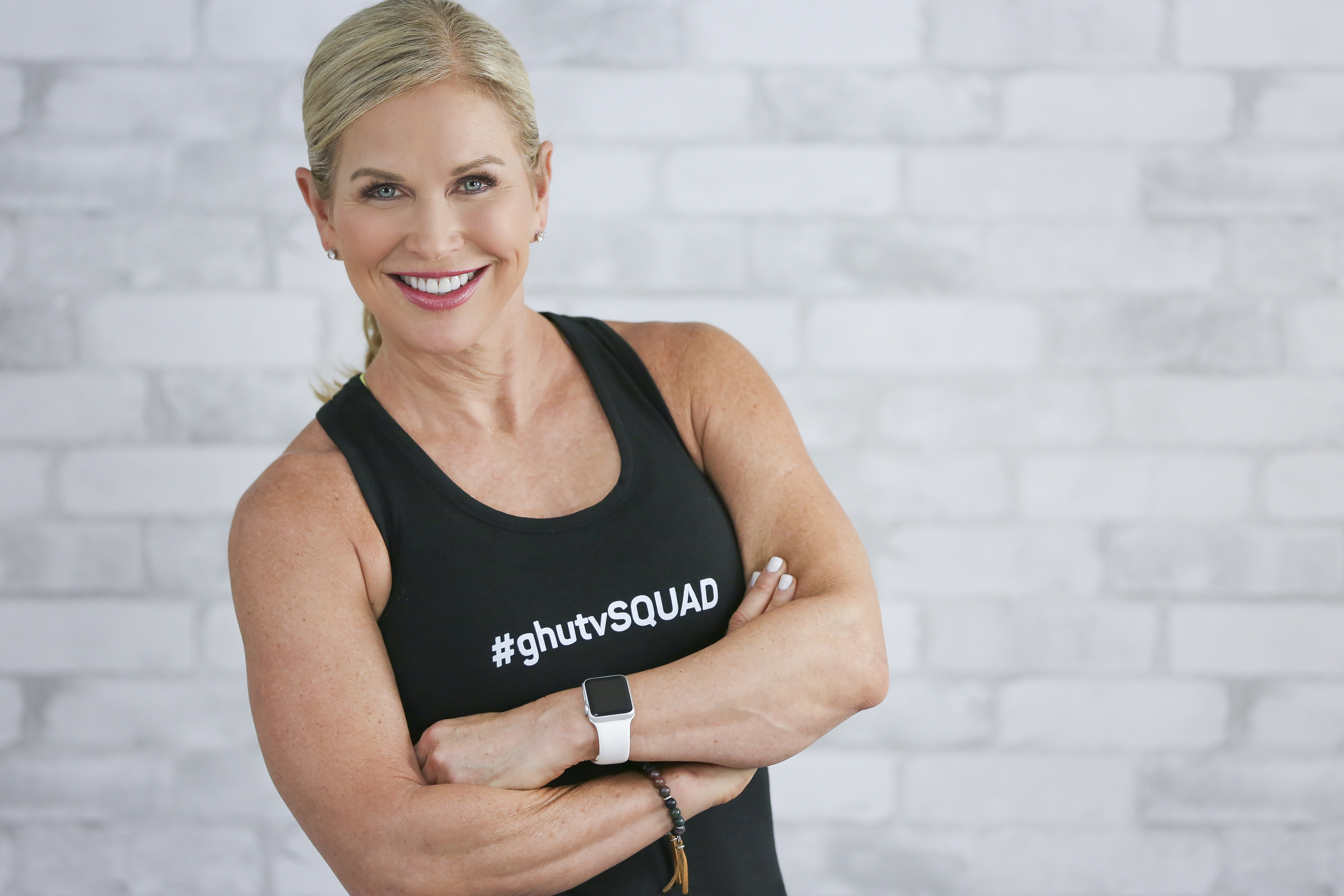 GHUTV Founder, Chris Freytag will be joining you in Bali!
Whether you want to break out of a rut, escape stress somewhere warm, or travel to new parts of the world… this active vacation provides the perfect solution! Bali's unique combination of natural beauty and enchanting culture makes it an ideal destination for relaxing and improving your health. We have put together a wellness retreat to help you feel rejuvenated by combining some structured fitness, authentic experiences, healthy meals, and lots of free time for fun in the sun. You will leave feeling a sense of overall well-being after this retreat experience. I can't wait! Remember, this vacation is for everyone; friends, beginners in fitness and spouses! It's not about how fit you are but about having fun!
9 Day Bali Tour Package Includes:
Round-trip international airfare from the United States to Denpasar, Bali. (Airfare also available from your closest international airport for an additional fee. First/Business class upgrades are available.)
Hotel/Airport transfers for all full package guests.
Deluxe hotel accommodations in the city center of Ubud and at a beach resort in Nusa Dua.
A professional local Balinese tour guide during the entire journey.
Many meals including daily breakfast and some special dinners.
Daily morning workouts with Chris Freytag.
Yoga and Stretching sessions with Chris Freytag.
Daily Mindset and Nutrition sessions with Chris Freytag.
A hands-on Batik Designing workshop and visiting a batik factory.
An optional Balinese cooking lesson with a master chef.
Visit to the Monkey Forest Sanctuary.
A workshop on creating a Balinese "offering" basket.
A private tour and demonstration at an Ikat Weaving Factory.
An optional "fire healing ceremony" and dinner with a local family.
A visit to the local market for shopping and photographs.
A Balinese cooking lesson with master chef.
An optional half hour foot massage or head and shoulder massage.
Sightseeing to see the extraordinary rice terraces.
An optional visit to the Bali Bird Park.
Sightseeing tour through the famous Sacred Monkey Forest.
Professional Craftours escort throughout your entire journey.
Shopping for Balinese paintings in the largest art gallery in Bali.
Craftours Lifestyles commemorative gifts including a wellness tote bag, lanyard and luggage tag.
All taxes are included.

Bali Highlights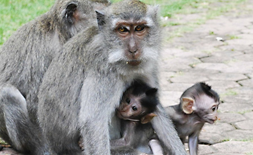 Monkey Forest Sanctuary
The Ubud Monkey Forest is a nature reserve and temple complex in Ubud, Bali. Its full name as written on a welcome sign is the Padangtegal Mandala Wisata Wanara Wana Sacred Monkey Forest Sanctuary. The complex houses approximately 605 Crab-eating Macaque monkeys. There are four groups of monkeys each occupying different territories in the park.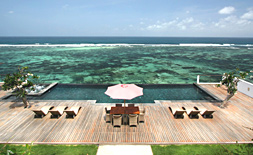 Nusa Dua
Nusa Dua is known as an enclave of large international 5-star resorts such as Kayumanis Nusa Dua Private Villa and Spa, St. Regist Resort Bali, Grand Whiz and others in southern part of Bali. It is located 22 kilometres from Denpasar, the provincial capital of Bali, and administered under Kuta South District. Nusa Dua means two islands, because there are 2 islands in bay of Bali Tourism Development Corporation area, in the southern side lays Peninsula Island and the northern side lays Nusa Dharma Island which it is smaller, but has Pura/Temple Nusa Dharma and shadier. In terms, of fine dining Piasan, with its upmarket design that maintains the Kayumanis flair for style and visual appeal, has set out to capture the ritual of typical Italian home dining. Every meal is a delicious feast of well-prepared food and social interaction.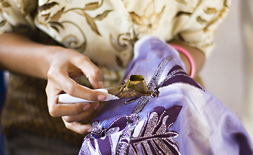 Indonesia Batik
Many Indonesian batik patterns are symbolic. Infants are carried in batik slings decorated with symbols designed to bring the child luck, and certain batik designs are reserved for brides and bridegrooms, as well as their families. Some designs are reserved for royalties, and even banned to be worn by commoners. Consequently, a person's rank could be determined by the pattern of the batik he or she wore. Batik garments play a central role in certain Javanese rituals, such as the ceremonial casting of royal batik into a volcano. In the Javanese naloni mitoni ceremony, the mother-to-be is wrapped in seven layers of batik, wishing her good things. Batik is also prominent in the tedak siten ceremony when a child touches the earth for the first time. In October 2009, UNESCO designated Indonesian batik as a Masterpiece of Oral and Intangible Heritage of Humanity.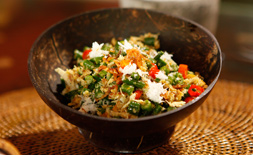 Bali Cooking Class
This cooking lesson invites culinary enthusiasts to step into the local gastronomy scenes and go on a journey of rich culinary discovery. You will be immersed in indigenous culture as you learn to prepare traditional dishes with indigenous ingredients, learning about the dishes' origins along the way.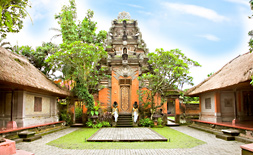 Ubud Royal Palace
The Ubud Royal Palace is one of the most prominent places in Ubud, as it is smack-dab on the main Jalan Raya Ubud road and intersection. The palace can also be regarded as the focal landmark of Ubud. The Ubud palace was built during the lordship of the late Ida Tjokorda Putu Kandel (1800-1823), and is well-kept by his successive heirs.
---
Optional Tours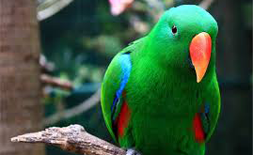 Bali Bird Park
Experience more than 1000 birds, 250 species and an experience that you will never forget. Bali Bird Park is one of the definite must-see attractions on Bali. Bali Bird Park is divided into regions that recreate the natural habitats of its birds, complete with indigenous plant life. A magical journey that takes you across the Indonesian archipelago, Latin America, Africa and Australia.
Fire Ceremony and Dinner
An optional "fire ceremony and dinner" at the home of a local Balinese resident.
---
Testimonials from past Bali Tours
Jinny Beyer – "I've recently returned from a fabulous trip to Indonesia. It was spectacular. Craftours certainly knows how to run a tour. We stayed in a first class resort and took day trips from there. We did lots of sight seeing, sewing, and eating the delicious Indonesian food! This is the third trip that I have taken with them. In all of them the accommodations were first class, the organization exceptional, and on each trip the local guides that were arranged have been awesome….so much planning, knowledge and information has gone into these trips and I recommend them highly."
Bonnie Hunter – "I've been honored and blessed to have been traveling with Craftours over the past several years as a teacher, lecturer and as a tour escort. The attention to detail and organization of every aspect of the tours from travel logistics, to lodging, activities and highlights are unsurpassed. Be it a cruise, a land tour or other excursion, be prepared for phenomenal itineraries, first class accommodations, knowledgeable and engaging tour guides, and even fabulous and fun bus drivers (land tour) who will give you the trip of a life time. This is the stuff that travel dreams are made of. These are memories that will last a life time. The folks I have met while traveling with Craftours have become friends for life. There are Sew Many Places to see! There are Sew Many Places to discover!"
Kaye England – "I consider myself very lucky to have traveled with Craftours. I have seen China, Italy, Bali, Africa, Australia, Ireland, England, Scotland and sailed the seas all while looking at things through a "Quilters Eye". All of the trips have exceeded my expectations with great attention to the details. I have met wonderful people, seen wonderful sites and made a lifetime of memories on our quilting tours. Craftours has a tremendous focus on hotels, food and tour guides which makes the trip memorable for all. I recommend a trip with Craftours as a delightful way to see the world."

To make your reservation call us at 815-663-4046 or Toll-Free at: 877-887-1188 (USA or Canada) 02393-880068 (UK) 18-0010-6424 (Australia)